Discover more from Sport Review
The sport newsletter that sometimes has sport in it.
A year of it - one year anniversary edition
52 not out - thanks for being part of the first year of the Sport Review newsletter. It's been a bloody pleasure hitting send every Friday for you.

First, massive thanks to you, dear readers for signing up. Every bugger's after your email address these days, I appreciate you trusting me with yours. Your enthusiasm and encouragement make rolling out of bed every Friday at sparrow's fart with the laptop and a strong coffee very much worth it.

Thanks also to this fine nation's sport journalists, who produce world class work every week, full of depth, passion and insight while making a living in a tough business. Get around them, support their work by paying for it, sharing it and supporting crowdfunding efforts like the brilliant LockerRoom.

And thanks for putting up with my own writing - the goal of the sportreview.net.nz blog when it started in 2004 was putting a bit of humour into the nation's sporting discourse. You will be the final judge of course (!) but I've loved writing it for you and enjoyed the discipline of doing my own thing every week.

Ultimately this newsletter's kaupapa is 'caring about sport' and 'having fun', and I hope it's added something to your sporting week.

Sometimes sport feels like hard work with the week in week out grind, the shit posts, sports that feel more marketing machine than actual sports, while other athletes survive on oily rags. It can be harder and harder to justify spending your valuable leisure time on actually getting out and supporting your teams when the big screen TV and pistachio nuts are RIGHT HERE IN THE HOUSE!

But there's so much to enjoy - the big tries, wickets, goals, winning trophies or losing them in enjoyably frustrating ways, and being part of a tribe and a culture. Sport catching up with society and starting to recognise female athletes properly has been huge and a real injection of enthusiasm and fresh energy. There's a whole lot of sport happening this year with all those world cups on, I hope you have a great one. Thanks again for reading.

Sharing makes you look intelligent and cool
A problem shared is a problem halved - I really appreciate you sharing this on your social feeds, or forwarding it to your family, friends, workmates and enemies and then badgering the crap out of them until they subscribe at sportreview.net.nz/signup.

Plans for the year ahead? More of the same. Maybe some T-shirts. Would love your feedback at richard@sportreview.net.nz, let me know what you'd like to see more of and less of. Cheers!

Top three most popular newsletters
My owns favs, in no order:
You can enjoy all the old editions again at the newsletter crypt.


Thanks for reading - Richard

The week's best NZ sport writing
The North Shore's QBE Stadium is one of the classic basketcases in Auckland's stadium shambles. Jamie Wall mounts a passionate defense [RNZ]

Peter Bocock took the gloves for the BLACKCAPS on the last day of the Basin Test, the last thing he thought he'd be doing that day. Niall Anderson got the story [NZ Herald]

Mount Maunganui's Julia Conway and Jo Parry are making a big impact on IRB's, the surf life saving fizz boats that have been fairly male-dominated up until now [LockerRoom]

Phoenix stalwart Andrew Durante casually dropped the startling story about being shot while on the football pitch this week [Stuff]

Guy Heveldt defends Neil Wagner, whose short-pitched attack has won us a few Tests recently, but is not everyone's cup of tea [TVNZ]

Bonus link - The worst sitcom ever made is a new podcast from RNZ, picking over the corpse of Melody Rules, the 'Scottish play' of NZ comedy. First episode is a cracker [RNZ]
Video nasty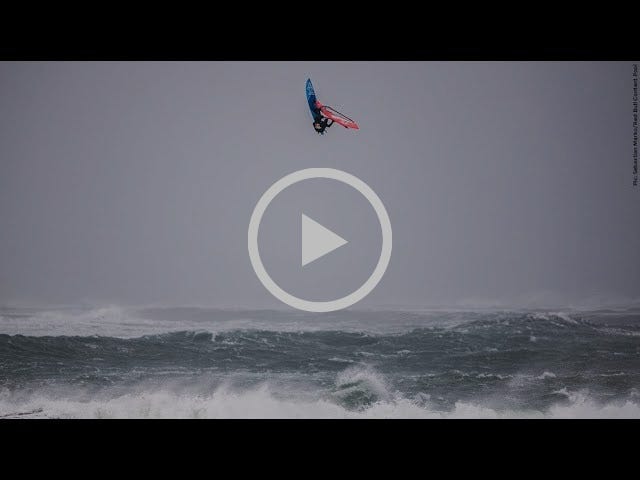 The Red Bull Storm Chase is a straight-out bonkers windsurfing contest off the Irish coast.
Long read

Adventures in the Ransom Trade is a classic Vanity Fair yarn that inspired forgotten gem action flick Proof of Life [Vanity Fair]

Bonus read - A-Z of 30 years of the Internet. Stoked it includes best-website-ever zombo.com [The Verge]
Selected weekend fixtures
The Chiefs will almost certainly get their campaign underway against the Hurricanes tonight at 7.35pm in Hamilton, while the Highlanders and Crusaders beat each other up in Dunedin tomorrow night at the same time, it's on SKY

The last Test of the home summer against Bangladesh begins Saturday at Hagley (it's on SKY), while the NZ and Australian women's development XI's play at Lincoln on the same day, that will be live streamed at nzc.nz

The Phoenix play West Sydney on Sunday at 7pm at the Cake Tin
Bring back the gif
When you make your killer point in the meeting but no-one cares.